Tweed Byron Towing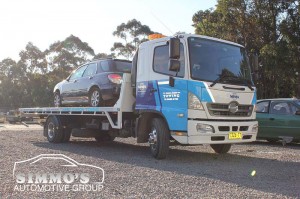 Tweed Byron Towing have been providing options and solutions for our clients since 1969. With 43 years in the industry our credibility will speak for itself. Often referred to as luxury taxi that not only take my family home, also takes my broken vehicle.
Being fastidiously selective with drivers our honest and friendly reputation is maintaind as the leaders in the industry. We strive on providing comfortable solutions when you have 'had better days'. With 12 friendly drivers our company depth will never leave you stranded.
Resourced accordingly and having 6 modern trucks based in Byron Bay and Tweed Heads, operational delays are kept to a minimum. Running a fleet of 2x 7 seater family orientated dual cabs, 3x single cabs and a purpose built salvage truck.
We offer secure undercover storage with 24hr CCTV, security patrols and following morning delivery on request.
With regular trips between Ballina, Gold Coast and Brisbane we have the flexibility to offer our clients backload options and passing on transport value.
Long distance towing is no issues and local towing  a specialty, we strive on providing affordable solutions as a true reflection on company core values.
In the event of an accident, a reputable operator is the least you can ask for. We will provide outstanding professional customer service whilst maintaining our credibility and offering solutions at a difficult time. In offering post incident advise and assistance we can help you get back on the road with minimal fuss.
Need a 20ft shipping container re-located? no worries. With a purpose built plant and container truck we make medium size transport simple.
Machinery/plant equipment re-locations are all part of the service we supply. With a professional approach and fully equipped trucks, we will make your transport secure and affordable.  
CONTACT INFO
BYRON BAY                                                                    TWEED HEADS
Ph:      02 66 856 752 – 24hr                                         Ph:       0458 666222 – 24hr                      
Fax:     02 66 855 104                                                     Fax:      07 55239590
Email: warrensimmonsss@bigpond.com                Email:  tweedbyrontowing@hotmail.com
HOLDING YARDS –                                                         HOLDING YARDS –
16 Banksia dr BYRON BAY NSW 2481                       4/14 Enterprise av South Tweed  NSW 2486
8-10 Acacia st BYRON BAY NSW 2481                      3 Parkside dr South Tweed NSW 2486
Licence no: 91515